OUR PARTNERSHIPS EXIST SO THAT OUR GUESTS CAN HAVE SOME OPTIONS DURING THEIR FREE TIME WHILE HELPING IMPROVE THE COMMUNITY BY PROMOTING OUR LOCAL BUSINESSES.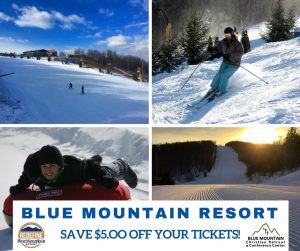 Blue Mountain Resort is located along the Kittatinny Ridge, which is part of the far-reaching Appalachian Mountains.  The Appalachian Trail is a neighbor, giving hikers quick access to our many amenities during their travels.  With the breathtaking backdrop of the Pocono Mountains, Blue Mountain sits within the picturesque Little Gap Valley.  Originally named Little Gap Ski Area in 1977, Blue Mountain was born in 1989 to better identify with the grand-scale of our mountain.  Blue Mountain has 39 ski trails to challenge your skills so you'll never run out of thrills, and with 16 lifts to get back up to the top the fun never stops.
To purchase your tickets visit www.skibluemt.com  or call 610.826.7700. 
Adventures & Mountain Sports
Your next mountain sport adventure awaits at Blue Mountain Resort in the Poconos! Bike down the mountain. Conquer the high ropes course. Blast your friends with lasers. Fly down zip lines. Toss around some discs. Whatever your pleasure, get out and seize the day.  Your outdoor summer fun starts here.
Skiing & Snowboarding 
Blue Mountain Resort is the home of Pennsylvania's highest vertical, the most varied terrain and some of the longest runs in PA!  With 39 trails to challenge your skills so you'll never run out of thrills, and 16 lifts to get you back up to the top, the fun will never stop.
Snowtubing
Nothing screams fun like snowtubing down a snow covered hill at exhilarating speeds!  Blue Mountain Resort is the only tubing park in the Poconos with family-size tubes, so come to Blue Mountain and start making tomorrow's memories, today.  Your family & friends will have the time of their lives flying down the mountain together!  Their Snowtubing Park offers up to 39 lanes that are over 1,000 feet long with 3 lifts to take you back to the top.