The Christian Group Retreat You've Been Dreaming Of
One of the best parts of being a Christian is the great fellowship you get to enjoy with your brothers and sisters in Christ. It's important that you set time aside to build bonds and relationships outside of your daily activities and that you truly learn to enjoy each others company and learn to appreciate each others uniquenesses. We try our best to create an atmosphere of bonding and brotherly love in addition to a place where people can go and meditate on God's word.
We're here to help create an experience that will last a lifetime. We provide the meals and a meeting space along with your lodging and you can create a schedule that fits your group. See below for some options to add to your individual group plans.
What You can Expect at a Group Retreat
We're always trying to come up with new and innovative ways to top ourselves here at Blue Mountain Christian Retreat. We'll break it down below. Keep in mind, people will have individual time, but we have specifically created facilitated group activities so you don't have to worry about a thing.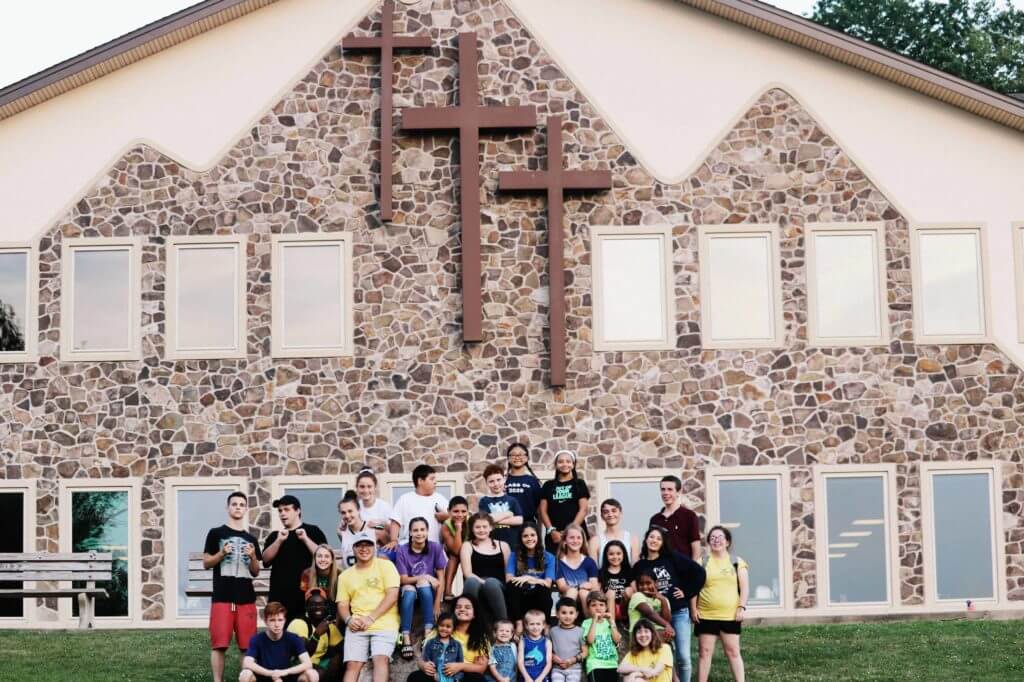 Daytime Outdoor Group Activities
Ultimate Frisbee
With the same foundation as ultimate frisbee, Air O Sport adds a level of competitiveness when played.  Your team has to make it down the field using at least 3 passes and earn points by knocking down a rocket, or rockets. The team with the most points by the end of  3 periods wins! A fun twist on a classic game.
Hosted Campfire
We build the fire and provide you with all you ned to start making some good old fashioned smores.
Team Building Activities
With experiential learning and debriefing after each activity, your group will have a trusted space to share and grow as a team. Equipment & Facilitator included.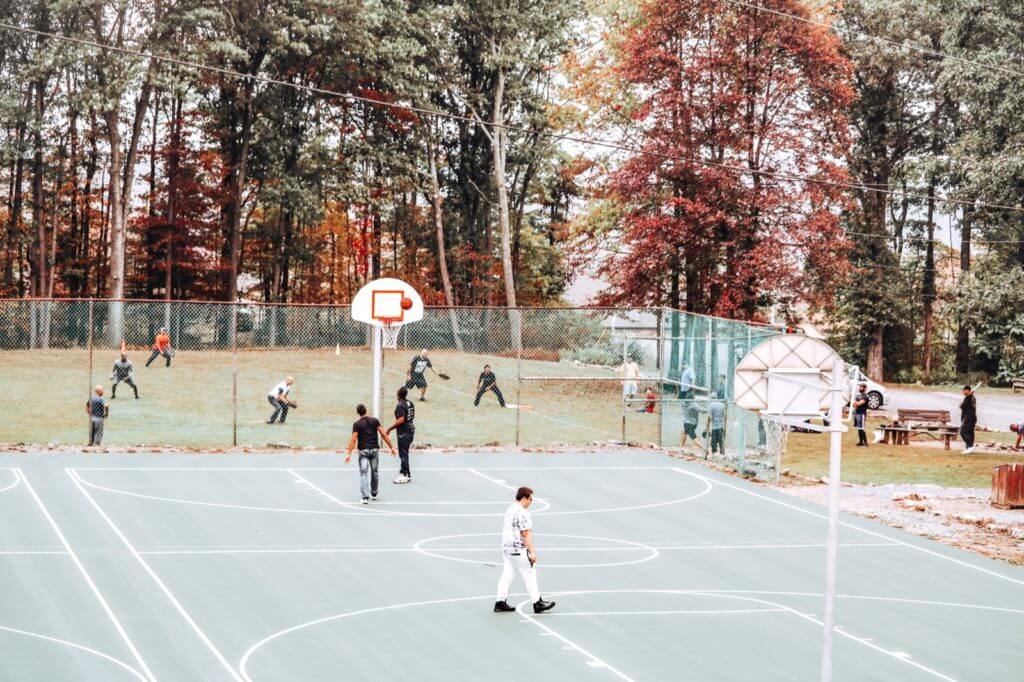 Large Group? Not a Problem
We can accommodate large groups. We've had many large groups here before and we have no problem handling the load. If you do have any questions or concerns, please feel free to contact us! We're here waiting to hear from you!
Can a Company Do Retreat Here?
Of course. We cater to any group of people. you don't have to be a church. If you're looking for a company retreat that focuses on fellowship and God, we can't wait to have you here! The size of your company does not matter. Just give up a call and we'll help get you set up. We're here to work for you.
What About Individual Activities?
Visitors will have full access to prayer chapel, bookstore, indoor, gymnasium, outdoor basketball courts, outdoor tennis court, sand volleyball court, playground, soccer field, baseball field, and hiking trails. 
What About Food?
We have a fully staffed kitchen that will provide the food.
Indoor Group Activities
Your group can request gym time during their retreat. Bring your own equipment or rent it while you're here! The book and gift shop is available for shopping. The game room is equipped with ping pong, Foosball, shuffle board, board games, and carpet ball. 
Night Time Group Activities (Indoor)
We offer different activities to be played during the evening under black lights. They are only available to be played after 8:00pm all year round! These are great options if you have free time after an evening session and are looking to fill some space! Facilitators and equipment included. 
Night Time Group Activities (Outdoor)
Elevate your movie night by bringing your favorite beach blanket and laying under the stars! Enjoy a movie of your choice (being approved by BMCR) or select one from our movie library. Equipment & Facilitator included. 
Events
Check out our "Events" tab in the menu for more info.
"First time here, but not my last! Cabin was clean and comfortable with heat and a/c, pots and pans. It was like being at home! Peaceful on top of the mountain. Great worship, food and people. Tons of outdoor activities, great for entire family! Trails, pool, tennis, baseball and much more. Loved it!"
"I have been coming here for years. It is truly God's land. Anointed and Peaceful. The staff is amazing, facilities always clean and comfortable. Its difficult to leave once you come!"
"My favorite place on Earth! Beautiful surroundings, wonderful staff.. Great teaching and worship!"