Facilitated Group Activities
Activities hosted by us for your group! No need to stress about equipment, rules, or referees- we will handle it all!
Call for pricing 570-386-2154 & contact your group coordinator to request these activities.
We offer different activities to be played during the evening under black lights. They are only available to be played after 8:00pm all year round! These are great options if you have free time after an evening session and are looking to fill some space! Facilitators and equipment included. 
GLOW Dodgeball: 
A classic game with an intense twist! The lights go out and you hear the excited screams from your group! 3..2…1..GO! Everyone rushes to get a ball, but be careful, if you get hit with a ball..You're out! Also available in non-glow.
GLOW 9 Square:
You only get one hit to get the ball out of your square. If you don't make it, then to the back of the line you go! This challenging but addicting activity brings the competitor out in all of us! Full for all ages. Also available in non-glow.
GLOW Vennis:
Split up in to four teams on the court. Like Volleyball, your team has 3 chances to set up a nice shot. Like Tennis, the ball is only allowed to bounce once in between hits and has to go over a low hanging net. It's not Volleyball. It's not Tennis. It's Vennis! This activity builds team work while having fun. Also available in non-glow.
These are great options for your group to get fresh air during the spring, summer, and fall months. Perfect free time option in the afternoon or evening! Facilitators and equipment included. 
Ultimate Frisbee with Air O Sport:
With the same foundation as ultimate frisbee, Air O Sport adds a level of competitiveness when played.  Your team has to make it down the field using at least 3 passes and earn points by knocking down a rocket, or rockets. The team with the most points by the end of  3 periods wins! A fun twist on a classic game.
Hosted Campfire:
Campfires can be challenging and stressful when you've never done it before! Leave it to the pros. We will build and keep the fire going, while teaching your group how to make the best s'more! Let us do the hard work, so you can have fun with your group ! (Marshmallows, Graham Crackers, Chocolate, Sticks, Fire, & Facilitators included)
Movie Night in The Pavilion or on the Lawn(weather permitting):
Elevate your movie night by bringing your favorite beach blanket and laying under the stars! Enjoy a movie of your choice (being approved by BMCR) or select one from our movie library. Equipment & Facilitator included.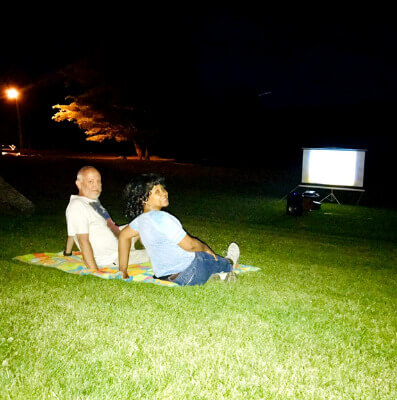 Customizable to your group and group size.  Enjoy an hour of activities that will  build the core of your ministry team(s) or instill a team mindset in your church group during your retreat! Facilitators and equipment included. 
Facilitated Team Building:
With experiential learning and debriefing after each activity, your group will have a trusted space to share and grow as a team. Equipment & Facilitator included.