The History of Blue Mountain Christian Retreat
Blue Mountain Christian Retreat is nestled among the Blue Mountain range, located in New Ringgold, Pennsylvania. The retreat complex is located on 375 acres of beautiful and peaceful land. It has been opened since 1974 and continues to grow steadily.
Blue Mountain Christian Retreat was founded by Chris and Margaret Dornbierer. They both were originally from Switzerland. Chris was a grower in a greenhouse in Zurich. While working there, a school friend invited him to go to Buenos Aires, Argentina. The purpose would be to study the growing methods of South America. During Chris' year there, Margaret and Chris were introduced through a mutual friend and began to write to each other. They both knew that they were meant for each other. Without ever meeting, Chris asked for Margaret's hand in marriage and she accepted. They were blessed with what they considered a "marriage made in heaven".
Both Chris and Margaret had a strong desire to go to America. They moved to New Jersey, where Chris worked as a greenhouse laborer. It was hard at first because he was only making $50.00 a week. But God changed all that after they planted a "seed" in the vineyard of the Lord by sending Oral Roberts $100.00, a gift equal to two weeks' wages. Reverend Roberts told them that they should see the gift as a "planted seed", which in time produces a harvest. The harvest came quickly. Chris was promoted to foreman. With the increased salary, the Dornbierers were able to buy their own greenhouses in New Jersey. The Lord blessed them and their business prospered.
A customer invited the Dornbierer family to visit the New Ringgold area in Pennsylvania. Chris and Margaret purchased land, which now is where Blue Mountain Christian Retreat stands. Chris knew, deep down in his heart, that God was going to use this land for His purposes. However, he did not know how. Over a 6-7 year period, God placed a vision in the hearts of Chris and Margaret. The vision was to build a place where all of God's people could go to worship Him in the freedom of the spirit, to hear fine outstanding speakers bringing anointed messages, and to fellowship with other Christians in the beautiful surroundings away from the noise and confusion of the world. It would be a place where people from all denominations of the Christian faith would be able to come apart to seek the Lord and draw closer unto Him.
God brought people into Chris and Margaret's lives to help them with planning, designing and organizing the building of the retreat. The Dornbierer family built their home and their greenhouse business across the road from the retreat grounds. The greenhouses in New Jersey were sold as well. In August 1974, the main building was dedicated to the Lord.
Over the years the retreat has grown. In the beginning, there was only a single building to accommodate 35 overnight guests. Now we are able to accommodate 400 guests. The auditorium has been enlarged to seat 450, and the cafeteria can seat 319 at one time. Throughout the years the Lord has sent capable dedicated workers. The retreat staffs about 12 full-time workers who live on the grounds, plus many part time workers from the local community. During the summer months the staff is expanded to an additional 20-25 workers.
Blue Mountain Christian Retreat is an ideal place for people to come for a vacation in a Christian atmosphere. Many people also come just to get away from the pressures of the world for a few days; to seek privacy and a quite time with the Lord. As Chris Dornbierer has said, "More than anything, we want the retreat to be a place where people seek the Lord and spend time alone with Him." It is such a peaceful, tranquil setting that truly the presence of the Lord does seem to permeate the whole place."
*The full story of Blue Mountain Christian Retreat given by Founder, Chris Dornbierer, is available on CD for $8.00 (2 parts) and DVD for $10.00.*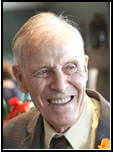 Chris Dornbierer
March 19,1922-April 12, 2014
It is with sadness yet joy knowing that Bro. Chris has gone home to be with the Lord. He will truly be missed by all. He always told testimonies about our Prayer Chapel with great joy. As the Lord answered people's prayer and their lives where changed, he became excited. In Memory of Chris, we are setting up a fund with donations given in memory of him to update and improve our over 35 year old prayer chapel. We'll begin with easier access to the Chapel having landscaped places to rest along the way. We would like to freshen up the inside, changing the carpet, etc. We pray that this will make the Prayer Chapel more accessible for more people to be blessed.